Heavy Duty Tubing
Product categories of Heavy Duty Tubing, we are specialized manufacturers from China, Heavy Duty Tubing, Construction Heavy Duty Tubing suppliers/factory, wholesale high-quality products of Flexible Heavy Duty Tubing R & D and manufacturing, we have the perfect after-sales service and technical support. Look forward to your cooperation!
China Heavy Duty Tubing Suppliers
HJT-FR Flame retardant heavy wall adhesive-lined Heat Shrink Tubing
Product description:
HJT-FR Flame retardant heavy wall adhesive-lined heat shrink tubing is made of the outer layer flame retardant polyolefin PE material and the inner hot melt adhesive layer, and it has flame-retardant and high insulation properties. Heavy Duty heat shrink tubing it's mainly used to the connector of the middle and end of the high-voltage wire, shipping electric wire, binding wire and metal conduit for insulation protection and other pipeline for anti-corrosion and wear proof.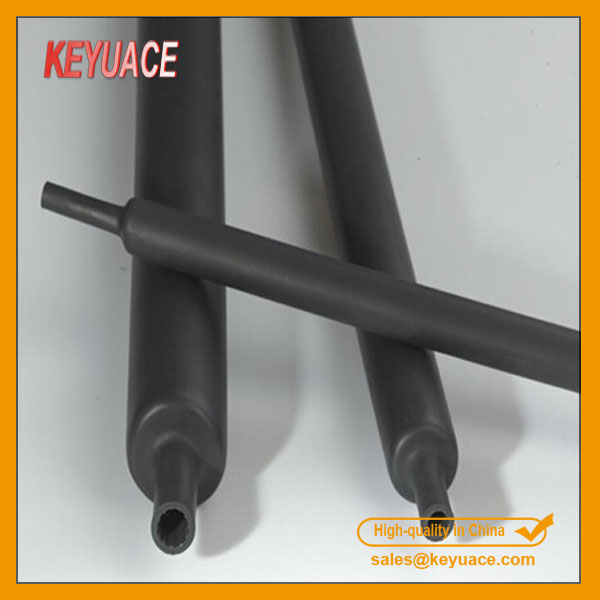 Feature & benefit:
a) Heat shrink ratio: 3/1, flame-retardant outer layer
b) Anti-UV, anti-irradiation, damp proof, waterproof, sealing
c) Efficient electronic insulation protection, superior mechanical protection performance
d) Standard colors: Black, red
Operating indexes:
a) Min. Shrink temp.: 100 degrees Celsius
b) Final shrink temp.: 120 degrees Celsius
c) Working temperature: -55~110 degrees Celsius
Up to standard: Approvals
Meet ROHS environmental protection, 110 degrees CCelsius.
Product specification:
Product dimension: